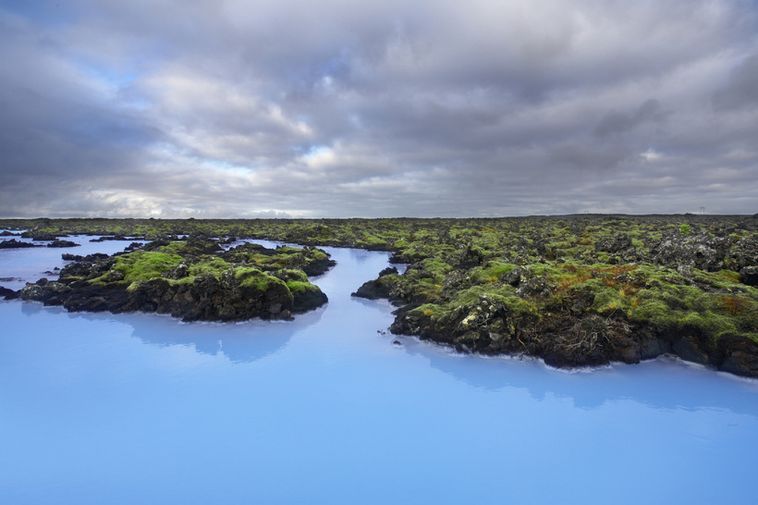 The beginner's guide to the Blue Lagoon
The beautiful blue waters of Iceland's most visited tourist spot.
The gloriously enchanting Blue Lagoon is on most travelers' must-see list in Iceland. It has recently been expanded to accommodate the ever increasing number of guests, a successful and very natural addition to this milky aquamarine colored lake.
Although there are many natural hot springs in Iceland, the Blue Lagoon is actually the result of the nearby geothermal power station and was formed in 1976. In the 1980s and early 1990s people used to bathe in her unique waters, milky with silica mud, and those with skin conditions and exzema have noticed a great improvement in their skin.
Back then, changing rooms were just a hut by the water, but now The Blue Lagoon is arguably the most sophisticated spa experience you can find in Iceland, or elsewhere. , at the International scale.
Here are some tips from Iceland Monitor before planning your trip and immersing yourself in its healing waters.
1.

Reserve in advance.

You absolutely have to do it, reserve a scheduled time otherwise you probably won't get in. This is easily done online or via the bus company that takes you there from Reykjavik.
2.

Decide what type of plan you want or can afford.

You can choose anything from standard to premium and you can see what's included in these packages HERE. Whichever one you choose, you are assured that the experience will be unforgettable.
If you have a lot of money and time to spend, the

luxury package

really worth it. It's the choice of the Beyoncé and Kardashians of the world and includes this super cool private space where you can change and shower in private luxury, with a personal waiter to bring you drinks and fresh fruit in your own private lounge. which hot water comes in if you want a secluded dip.
3.

Shower, naked, before entering.

Those of you who know Iceland and its shower rules will know the exercise. If you don't, there are actually polite members of the staff at Blue Lagoon who will show you a shower before putting on your bathing suit and entering the lagoon. Which, of course, is a matter of hygiene and you don't want to swim in someone else's dirt, right?
But if you are, unlike Icelanders, prudish about being nude in a gay shower room, fear not. The Blue Lagoon is the only swimming spot in all of Iceland to have showers with doors installed. It's a strange sight for Icelanders, but can be heartwarming for some.
4. Take care of your hair

Everyone tells you to just put conditioner in your hair and you'll be fine. Not true. If you have long hair our advice is to put it in a high bun coated with coconut oil, or, if you really care about your hair, put a plastic cap on it. Your hair will get really, really dry and disgusting after a swim in the lagoon, and it will take a few deep cleansing shampoos and days before it returns to normal. You were warned.
5. Book a massage

It is totally worth it! It is a very unique experience to float on these mattresses in a calm and tranquil corner of the lagoon while a fantastic professional masseur takes care of your aches and pains. At the end, you can float a bit longer and even take a nap.
6. Have a drink

Swim to the bar in the super cool water. Obviously a lot of people will go for a glass of white wine, beer, or a cocktail, which of course is fun, but the Blue Lagoon also has these delicious, healthy smoothies made with Icelandic skyr and fresh fruit, or juice. fresh fruit for a super boost of energy.
7. Put on a mask

You are here for a spa experience so apply the white algae mask to your face and leave it on until it hardens. This mask is purifying, cleansing and revitalizing and will calm all skin conditions. After looking like a total idiot for about 15 minutes, take it off and switch to the green algae mask. This is complementary to some packages, otherwise you have to purchase it additionally. Leave it on for a while and you'll look rejuvenated and hydrated, I promise. You can also purchase these masks when leaving the premises at the Blue Lagoon Shop.
8. Understand the super high-tech bracelet trick

Oh, and before I forget. At the entrance you get this futuristic bracelet which you can use to open and close your locker, to buy drinks, massages and so on while you are in the water.
9. Don't kill your phone

Everyone takes selfies at the Blue Lagoon. Obviously all that steam is a really bad idea for your new gold 6S I-phone and yes you can easily drop it. You can buy waterproof cases for your phone locally, and you won't regret it.
10. DO, absolutely, go to the Lava restaurant.

If you have the time, you should really complete your Blue Lagoon experience by eating at the fabulous Lava Restaurant, which has an excellent team of experienced chefs at Michelin star restaurants in New York, London and Paris. And all with that unique Icelandic new twist – lots of lamb, fish, shellfish and seasonal Icelandic ingredients. Believe us, you'll be starving after your swim in the lagoon, and a wonderful four-course culinary adventure will put the finishing touches on your day before you return home. Reserve a table HERE.