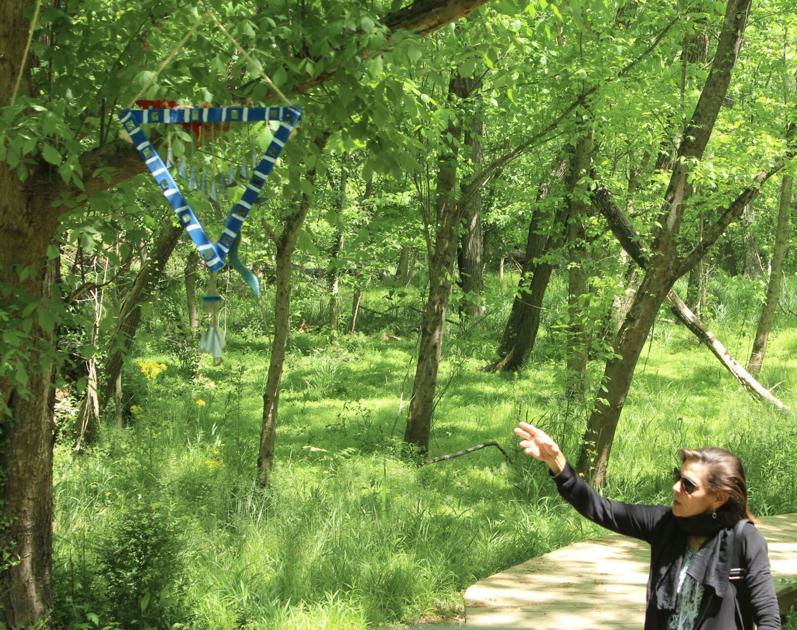 Update: Blue Heron Nature Preserve 'Into the Wild' Art Exhibition | Community
"Art of Nature," the Blue Heron Nature Preserve's annual art exhibit, operates "Into the Wild" this year.
This three-word phrase is the theme of the 2021 installation, which will feature works by nine artists or professional groups, selected from 19 nominations, and a group of students. Last year 14 pieces were submitted and seven were chosen. The in-person exhibit opens April 24, two days after Earth Day, and lasts six weeks.
"The works draw on the beauty and power of nature and the reserve," said Melody Harclerode, executive director of the reserve, who arranged private tours of the exhibition on Earth Day on 22 April. "I think it will be a phenomenal experience to preserve the visitors, our guests.
Steven L. Anderson, Blue Heron 2021 resident artist and curator of the exhibit, added, "I'm pretty excited about this. There are several artists (who) I have not met or known their work before (and) a few artists that I have known quite well. We have a good range of two-dimensional art and sculpture and even performance art this year. It's a good mix of art and artists.
This year's exhibition challenged artists submitting works to answer questions about the meaning of "wild" and how their art reflects it. Nineteen artists or groups submitted works and nine professionals were chosen: visual artists Chloe Alexander of Hapeville; MFGoods (with Eddie Farr and Alice Lim, both of Atlanta); Dena Haden of Berkley, Massachusetts; and Roxane Hollosi, Corrina Sephora and Sachi Rome, all of Atlanta; and Shannon Willow of Clarkston; and dancers Erin Palovick of Atlanta and Mary Grace Allerdice.
There is also a group of students from North Atlanta High School (with Eve Harclerode, Annie Kim, McKenna Weinbaum and Scarlet Wills).
Anderson, who specializes in drawing, painting, video and steel sculpture, the latter being the medium used for a permanent piece he creates for the reserve, said he was pleased with the diverse nature of the artists and their works. Each artist or artistic group submits a piece and will receive an allocation of $ 800 to create them. The exhibited works can be purchased by visitors to the exhibition.
"We are really interested in the diversity of art and artists who are working with us this year, and we are excited to see how the nature reserve can be a forum for artists to create works about the world and their role in it. this one. ," he said.
Harclerode added, "At Blue Heron, we are committed to connecting the public to nature through innovative initiatives, and we are delighted that 'Art of Nature' continues this mission. We believe in free access to great art in beautiful surroundings.
The exhibition is open during the usual hours of the reserve. For more information, visit bhnp.org.