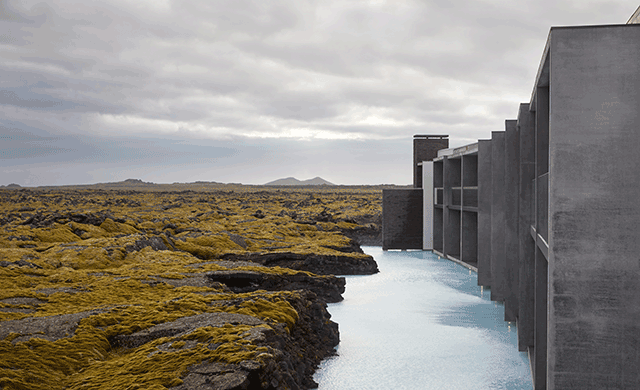 The idyllic retreat at the Blue Lagoon comes to Iceland
Surrounded by the scorching, pastel waters of Iceland's Blue Lagoon, the Retreat is located on the island's best-known and most Instagrammed destination. A stay at the hotel takes guests away from the tourist fray in a peaceful new extension of the geothermal water attraction (known for its healing properties), with an underground spa carved into lava, a gourmet restaurant and the first establishment 5 star digs in the country.
The angular building merges with the idyllic landscape and is seemingly surrounded by the lagoon, a concept that Icelandic firm Basalt Architects (which ran the wellness destination's original spa and hotel) incorporated into the interior design – a collaboration with Design Group Italia based in New York and Milan. Despite the minimalist scheme and harmonious tonal palette, luxury materials and finishes such as leather, wool and stone "convey a feeling of warmth and a reassuring atmosphere", says Sigurdur Thorsteinsson, chief creative director of the Design Group Italia and native of Iceland. "You should feel cocooned."
Floor-to-ceiling windows in the 62 comfortable suites offer spectacular views of an 800-year-old lava flow covered in neon moss or, in winter, snow. Freestanding tubs and rainfall showers share the volcanic panorama, while living rooms open onto terraces and balconies with gently curving chairs, creating the perfect perch to scan the horizon for the Northern Lights. Other elements bring the outdoors in: lava-like ceramic tiles (43 different patterns were used), warm walnut cabinetry, and bare concrete walls. "We decided that the real work of art was nature," says Thorsteinsson, who arranged the rooms according to carefully considered views. "You don't need art to distract you from that."
Despite large windows, lighting is crucial on an island where darkness reigns most of the year. The solution: lighting that moves with the natural phases of the sun, plus perforated waterjet-cut aluminum screens on the walls and roof that mimic the texture of lava rock.
One of the Retreat's most dramatic spaces is the lobby and reception, with high ceilings and windows framing the lagoon and Mount Thorbjörn. With a wavy, textured finish, the walls reflect the "ripples on the surface of the water outdoors," says Thorsteinsson. The design team designed a bespoke reception desk and bar for the space, as well as a custom chef's table at the Moss Restaurant, all of which were crafted from a huge lava rock quarried on site. . But for a twist, it merges with leather (at the reception) and walnut (at the chef's table). For an additional mindful connection to the outdoors, the restaurant's Pixel Cloud OLED ripples "like mist slowly rising from the warm waters of the lagoon."