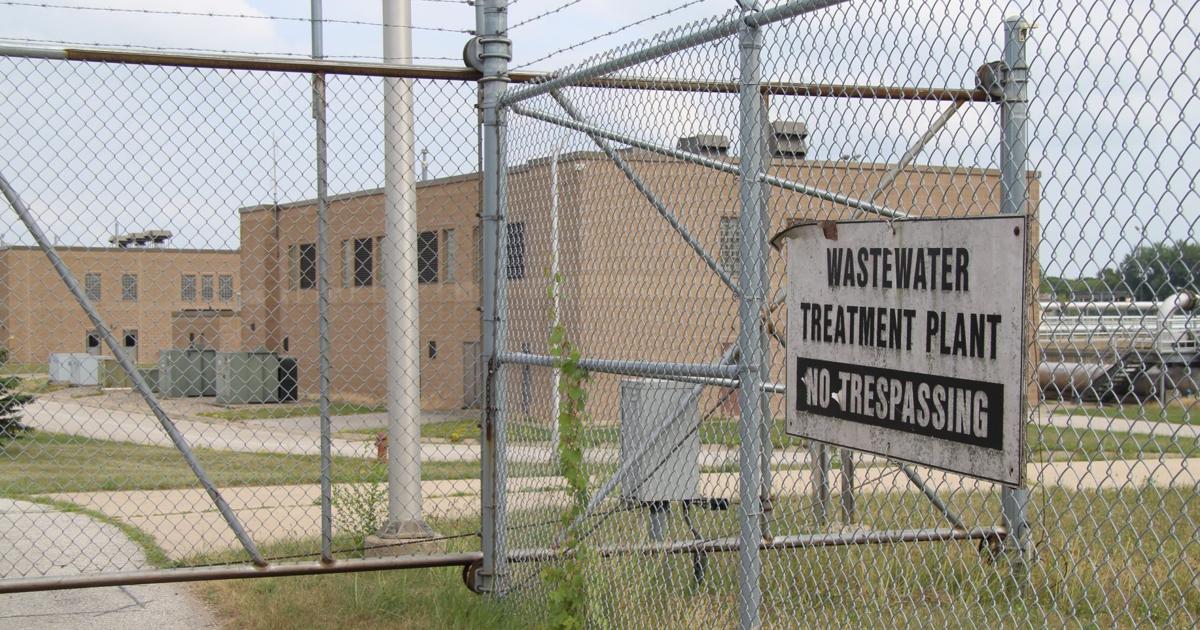 Burning money: Waterloo considering allowing company to sell waste biogas from city | New Policies
WATERLOO — The city potentially burns millions of dollars a year in natural gas produced from sewage, and the council is now looking for ways to profit from that instead.
Currently, Waterloo flares most of the gas that occurs as waste from its sewage treatment plant and Tyson Fresh Meats sewage lagoon, a product known as biogas. About 40% of the city plant's biogas is used to heat plant processes, such as digesters, but the rest – and all of the Tyson Lagoon gas – is flared or "flared" in order to prevent the gas from polluting the air.
In 2019, the city considered building infrastructure to capture and clean this biogas and sell it, but the idea was not profitable at the time. It is now, thanks to companies willing to build that infrastructure and share in the revenue, according to Randy Wirtz, wastewater practice manager at Strand Associates.
"What we're talking about today is an opportunity for the city," Wirtz told city council during its Monday night business session.
Wirtz, who has worked with the city on wastewater treatment since 2016, said the treatment plant produces about 250,000 cubic feet of "high-value" biogas per year, which at current market rates is worth approximately $2.33 million.
Because it handles Tyson's industrial waste, lagoon biogas is a lower-value commodity, Wirtz said. Nevertheless, since it produces much more – about 800,000 cubic feet per year – it is the largest producer of silver, to the tune of almost $3.5 million per year at current market rates.
The city could build its own plants to capture this biogas for about $23 million and raise about $2.8 million a year after expenses and debt payment. But there is no guarantee that favorable biogas prices will remain – the impetus behind the 2019 postponement decision.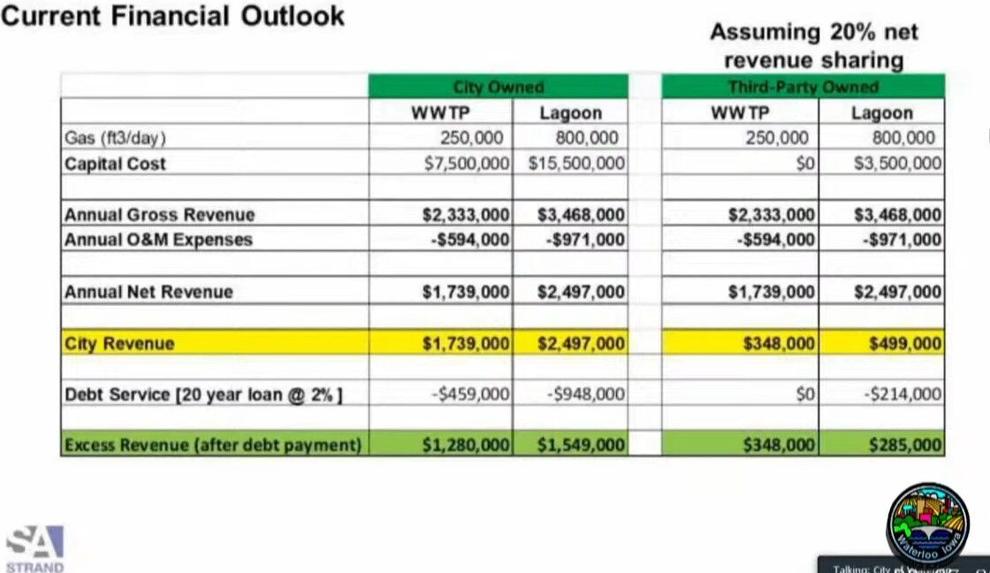 "If the market doesn't stay high, we're taking that risk and we're not going to make the money that's shown there," adviser Dave Boesen said.
The other option would be to allow a third-party company to design, build, own and operate the facilities and sell the gas, with the city retaining a percentage of the revenue. Wirtz said Waterloo could reasonably expect a 20% revenue-sharing deal, given what he's seen in other markets the size of Waterloo, around $633,000 a year.
"It gives you a very quick return on investment because you have no upfront capital cost. You get income from it and the risk is very low," Wirtz said.
Waterloo looking at sewer gas options
Councilor John Chiles asked what would happen to prices if other towns also started selling their biogas. Wirtz noted that oversupply could eventually be a problem, but that's certainly not the case now, with federally set biogas targets "not being met and not close to being met." ".
The more than 16,000 wastewater treatment plants in the United States could potentially meet 12% of the country's electricity demand, according to the EPA. Corn only around 860i.e. 5% of factories capture their biogas.
"Every year they set a renewable volume that they want to produce, and every year they fail," he said. "So there is a large market available."
Waterloo sends $100 million sewer plan to state officials
It could also be a feather in the city's environmental liability cap, Wirtz said: "Every cubic foot of natural gas you put in the pipeline that's renewable is another cubic foot you don't have to pump. of the ground."
Wirtz said an updated study would need to be completed before moving forward, and Mayor Quentin Hart noted that council would need to approve whether to spend money remaining from Strand's 2019 contract on the study.
"Personally, I like the low-risk, third-party option," said Councilor Jonathan Grieder, noting that he also liked the environmental aspect. "I definitely think that's something we should be looking at."