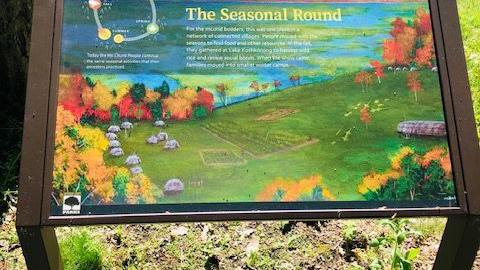 Garman nature reserve orientation trail signage unveiled | Jefferson County Area
WATERLOO – On Saturday, May 22, the new trail orientation signage for the Dr JS Garman nature reserve was officially unveiled in Waterloo.
For the event, supporters gathered for a guided tour at the entrance to the Garman Reserve and encountered the first of 18 colorful art panels by artist Ho-Chunk Christopher Sweet. The delicate yet powerful graphics advised visitors to "take care of this special place" and informed viewers that the Ho Chunk are the people of the great voice, the original people of this region.
The recently completed Cultural / Natural Orientation and Interpretation Project installation at Garman Nature Reserve is the culmination of two years of work with a group of volunteers, the Ho-Chunk Tribe and a design company.
"This is something that we are all extremely proud of and hopefully will be appreciated by all who see it," said Kevin Wiesmann, Acting Director of Jefferson County Parks.
The Parks Department worked with local volunteers and Group 106 to develop this series of interpretive signs that guide visitors through the nature reserve and provide an understanding of the features of the reserve, including the 22 conical Indian mounds, glacial features, geology and common plants and animals found in the reserve.
The new signage also indicates the layout of the trails and places to locate the giant yellow hyssop (Agastache nepetoides), a plant species on the endangered species list of the state of Wisconsin.
Hikers through the park might think they are in an art gallery as each of the orientation signs encountered features another expressive and imaginative design.
"My mind is always trying to find the right path in a painting, so when I start a process sometimes there are a few ideas layered under the finished job," Sweet explained. "It can be a long journey, but it's still a therapeutic experience."
Sweet's Ho-Chunk name is Huuc Co Blue Bear, and he attended the Institute of American Indian Arts in Santa Fe, NM
The new interpretive and orientation signage of the trails of the Garman Nature Reserve only adds to the natural beauty of the reserve.
Mary Truman, Jefferson County Parks Program Assistant, put it best: "If you are lost in the hustle and bustle of life, Garman Nature Reserve is a peaceful and serene remedy. Come and get lost in the reserve. You will meet again.
Now with the addition of these directional signage the journey just gets better.
In 2003, this 40-acre wooded hill, now the Dr. JS Garman Nature Reserve, was donated to Jefferson County by Mrs. Theo Garman in memory of her late husband, John.
Part of the county park system, Garman Nature Reserve is located at 701 Fox Lane in Waterloo. The Waterloo Regional Trailhead facility is adjacent to the property.