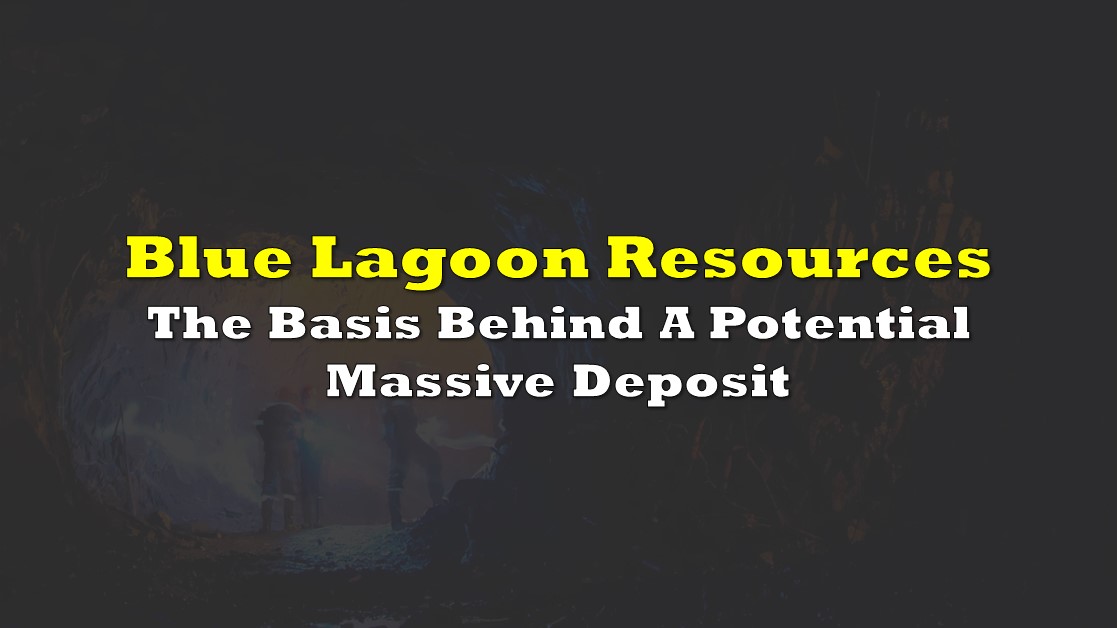 Blue Lagoon: the basis of a potential massive deposit
Blue Lagoon Resources (CSE: BLLG), a junior exploration company focused on its Dome Mountain gold project in British Columbia, was recently discussed during an interview with Quinton Hennigh. Hennigh, a renowned geologist, is currently the geological and technical director of Crescat Capital, an investment company which has taken a significant stake in the company.
The Dome Mountain property hosts the former Dome Mountain gold mine and hosts 15 known high-grade gold veins, although 90% of the massive property is still unexplored. The project holds both a permit under the Environmental Management Act as well as a mining permit for up to 75,000 tonnes of annual production. Blue Lagoon has generated modest revenue from the sale of mineralized material from the mine, which helps offset some of the company's operating costs while aggressively exploring the property's many vein systems.
Hennigh's recent discussion on the property follows an agreement signed in August 2021, whereby Hennigh agreed to provide its expertise on the exploration and development of the Blue Lagoon property, while also providing geological and technical advice. as the company works to move the project forward. Prior to Crescat's involvement, Dr. Hennigh had carefully considered the potential of Dome Mountain and felt that the project had much greater discovery potential than Boulder Vein, which was the focus of most historical drilling programs.
In his view, the Dome Mountain project exhibits characteristics of a certain type of intermediate sulphidation system called a carbonate-based metal-gold deposit, similar to massive deposits found in various locations around the world. Low sulphide carbonate deposits were formed by the volcanic activity of magmas that emitted carbon dioxide and are more alkaline in nature, as opposed to the very acidic, high sulphidation deposits created with high sulfur content. Volcanism pushed mineralized fluids up to the earth's surface where they cooled and mineralization settled into shear zones, faults and breccias. At Dome Mountain, these appear to be deep vertical formations, therefore several veins were intercepted in the same drill holes.
One of the main drivers of Dome Mountain's potential is its vein network. Most of the drill holes intersected multiple veins, indicating that the rocks are widely intersected with small, high-grade mineralization that appears to be open at depth. While much of the historical exploration on the property has been focused on the mineralized Boulder Vein, Blue Lagoon recently completed a drill hole on a target structure northeast of the Boulder Vein called the Chance Structural Corridor.
On February 7, the company announced that this drill hole encountered a new high-grade vein that returned assay values ​​of 14.8 g/t gold and 38.3 g/t silver on 7.3 meters, as well as a second vein further down the hole which returned 26.9 g/t gold and over 100 g/t silver over 1.04 meters. In all, this hole intersected four veins, and according to Dr. Hennigh, this constitutes a new discovery and further validates his hypothesis about the geology of Dome Mountain.
Blue Lagoon is in the midst of a 20,000 meter drilling program with two drills now operating 24/7. The company will dedicate one of the drills to the Chance structure to follow up on this latest development and the other drill will continue to follow previous holes with step-out and infill drilling to better delineate the size and scope of the systems. of veins emanating from the exterior. of the Boulder vein along strike and at depth.
| | | | | | |
| --- | --- | --- | --- | --- | --- |
| Hole ID | From (m) | to M) | Interval (m) | August/t | Ag g/t |
| DM-21-244 | 186.92 | 187.63 | 0.71 | 7.46 | ten |
| DM-21-244 | 247 | 247.8 | 0.8 | 6.89 | 25 |
| DM-21-244 | 381.2 | 388.51 | 7.31 | 14.8 | 38.3 |
| including | 381.2 | 381.6 | 0.4 | 47.3 | 87 |
| including | 383 | 384.1 | 1.1 | 62.6 | +100.00* |
| including | 387.93 | 388.51 | 0.58 | 31.5 | 58 |
| DM-21-244 | 443.52 | 444.56 | 1.04 | 26.9 | +100.00* |
*Ag above 100ppm detection limit will be re-run with silver test
Dr. Hennigh draws similarities between the geology of Dome Mountain and that of the Buritica gold mine in Colombia, South America. Although the deposit footprint of 1.5 by 2.0 kilometers is smaller than that of Dome Mountain, there are numerous veins of high-grade mineralization that extend vertically at depths ranging from 20 meters to 2,000 meters or more. Buritica, which is owned and operated by Xijin Mining of China, has reserves of over 10 million ounces of gold.
Other massive carbonate-type gold deposits include:
Porgera – Papua New Guinea – 30 million oz.
Peñasquito mine – Mexico 23 million oz.
Acupan – Philippines 14 million oz.
Fruta del Norte – Ecuador – 12 million oz.
Blackwater – British Columbia – 12 million oz.
Antamok – Philippines – 11 million oz.
Hidden Valley – Papua New Guinea – 10 million oz.
Kelian – Indonesia – 8 million oz.
Cowal – NSW, Australia 8 million oz.
What makes geologists like Hennigh excited about the prospects of Dome Mountain is that it is a massive property, 99% of which is still unexplored. The magnetic surveys indicate a potential for mineralization on the entire property. "Crescat is very pleased to help fund a very aggressive drilling program at Dome Mountain this year, which could result in recognition of Dome Mountain as a potentially significant high-grade gold system," Hennigh commented at the time of his involvement. initial. with the company last year.
---
FULL DISCLOSURE: Blue Lagoon Resources is a customer of Canacom Group, the parent company of The Deep Dive. The author was paid to cover Blue Lagoon Resources on The Deep Dive, with The Deep Dive having full editorial control. Not a buy or sell recommendation. We may buy or sell Company securities at any time. Always do additional research and consult a professional before purchasing a title.